St. Louis Blues: Beginning Of The End? Binnington Gets Another Start
St. Louis Blues rookie Jordan Binnington has earned another start for the Blues, and the question needs to be raised, is this the beginning of the end for Jake Allen?
The St. Louis Blues are giving Jordan Binnington his second career start after pitching a shutout in his debut last week against the Philadelphia Flyers. However, is this more of an indication of how well Allen is playing, or the potential of Binnington as a goalie.
Allen, to put it simply, has sucked in his previous two games for the Blues and may have single-handedly cost them four points. While Allen has been the subject of ridicule by Blues fans over the past five seasons, for the first time as an Allen apologist myself, it may be time to move on.
Montreal Canadiens (5th Place In Atlantic)
Record: 23-16-5
Last 10: 6-4-1
Season Series: MON Leads 1-0
Point Leaders: Max Domi (39), Tomas Tatar (33)
The Montreal Canadiens, despite seemingly being in a rebuilding mode, have been one of the surprise teams in the NHL this season. Led by their captain, Shea Weber, the Canadiens currently occupy the second wild-card spot in the Eastern Conference.
The Blues are already starting to infuse their young talent as the season goes on. Sammy Blais was recently reinserted back into the lineup after being called up from San Antonio, and many of his AHL teammates have received the same opportunity.
Mackenzie MacEachern has been called up for tonight's game against Montreal and will make his NHL debut as a St. Louis Blue.
MacEachern has performed very well for the Rampage in the AHL. The former third-round pick has nine goals and six assists so far this season and has regularly played on the Rampage's top two forward lines.
He is projected to slot into the Blues fourth line alongside Ivan Barbashev and Blais. This means that Oskar Sundqvist and Robby Fabbri will be paired together on the third line, centered by Robert Thomas.
The third line for the Blues is intriguing, seeing Thomas and Fabbri playing together gets me excited for what the future has in store for St. Louis and I think they have played well in limited time together.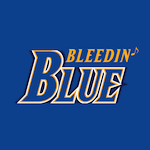 Want your voice heard? Join the Bleedin' Blue team!
Write for us!
Although it is extremely likely that Allen remains the Blues number one goalie, Binnington's success can only help the team. If he picks up where he left off last Monday in Philadelphia, the Bleus could be more inclined to move on from Allen.