St. Louis Blues: Spooky Season Is Real For Alex Steen
The St. Louis Blues are dealing with major injuries to Vladimir Tarasenko and Alex Steen. For Steen, the consequences of missing major time could prove determinantal to his career.
Alexander Steen has had a fluctuating role with the St. Louis Blues since Mike Yeo was fired, and Craig Berube took over the bench two years ago. The veteran went from being scolded by Blues fans due to poor play and a big contract to becoming an essential player to the team's Stanley Cup run.
Steen missed a good part of the NHL's return to play and the Stanley Cup Playoffs with an injury, and it was rumored in the offseason that the team might attempt to buy out his contract in hopes of freeing up money to sign former captain Alex Pietrangelo.
A buyout of Steen's remaining $5.750 million contract would have been a welcome sight for many Blues fans, even if it still meant that the team would lose Pietrangelo.
However, the time has passed, and Steen is still a member of the Blues and is a candidate to open the season on LTIR in order to open some more cap space for Doug Armstrong to play with.
The potentially detrimental element of Steen's situation is his age and performance over the last handful of years. Even when healthy, you could make a case for leaving Steen out of the starting lineup due to his recent play, but his contract kept him in games.
At 36 years old, Steen's glory days are long gone, and with it, a lot of his productivity. You can no longer expect him to be scoring 20 goals anymore, and even if he were to reach 15 marks, that's not worth the healthy contract he owns.
Steen's game has been forced to change over the years as well due to his fluctuation in roles with the team. He went from playing in the top-6 and producing on the scoresheet to aiding Ivan Barbashev and Oskar Sundqvist on the fourth line.
At 6 feet, 211 pounds, you can't expect him to throw his body around and take on an enforcer role, which is part of the reason why the team signed Kyle Clifford. There are plenty of younger players at a much cheaper rate who can give you the same offensive numbers. So the question remains. What can he do?
There's something to be said for being with an organization for 12 years. The presence in the locker room will be even more important with the loss of Pietrangelo. If this were six years ago, then we might be talking about Steen getting the captaincy.
Although retirement is likely in the near future for Steen, missing the start of the upcoming season does not play well for his next contract. There won't be many teams in the market for an aging forward with a significant injury history.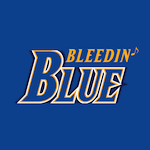 Want your voice heard? Join the Bleedin' Blue team!
Write for us!
Regardless of what happens in the next two years, he will always be remembered for his 2013 shorthanded goal against the Kings and for being one of the first players to lift the Cup as a member of the Blues.