St. Louis Blues: Is the Patrik Berglund Extension a Good Move?
The St. Louis Blues announced a five-year extension for Patrik Berglund on Friday afternoon. While he has been hot of late and has helped the Blues right the ship, is this a good long-term move for the team?
Let me just preface this article with something: I'm actually a pretty big Patrik Berglund fan. He hasn't lived up to first-round expectations as a Blue. But, he has still been a solid player at the NHL level. His off-ice personality is second to none in St. Louis sports.
And now the St. Louis Blues have extended Berglund for another five seasons. Honestly, I'm not quite sure I understand this type of commitment.
According to the team announcement, the new extension has an annual average value of $3.85 million for a total commitment of $19.25 million through 2022.
This is a four percent raise for the Big Swede. Right now, in the final year of his previous deal, he is making $3.7 million. It's essentially an extra $150,000 per year for the 28 year-old.
In addition to the money, ESPN's Pierre LeBrun is reporting that the extension includes another partial no-trade clause.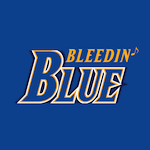 Want your voice heard? Join the Bleedin' Blue team!
Write for us!
While on the surface it may appear as good value right now, I'm a little worried this extension is a move just based on his very recent play. I'm worried GM Doug Armstrong and the gang aren't extending him based on what they should expect in the years ahead or the room they'll have for him.
Halfway through this mandated bye week for the Blues, Patrik Berglund's 17 goals is second on the team, behind Vladimir Tarasenko. It has been exciting to watch his hot play as of late because no one expected him to be in those ranks. Those goals have provided a surge to the Blues when they needed it most and it helped them fight through a lot of that January turmoil.
His play has made this year Berglund's best since 2012-2013, when he scored 17 goals in a shortened 48-game season. However, he only has seven assists to go along with his lamp-lighting (24 points through 60 games just isn't anything to brag about).
But, he has been tremendous off the score sheet. He seems to be using his size (finally) in the offensive zone to recover loose pucks and generate offense. His defense has been good as well, though that's never really been the issue for him. "Bergie" has been used at center and on the wing, and he has succeeded in both spots.
And aren't we all pretty surprised by it?
The lovable Swede was really underwhelming the last few years. The Blues were a dominant team on the rise and he was almost a forgotten piece. He was damn near invisible. And I distinctly remember the surprise and confusion from Blues fans when he received his last extension in 2014. That also included a modified no-trade clause.
So, are we so sure that the Patrik Berglund we've seen the last two months is the Berglund the Blues are going to get for the next five years? I'm not.
It's not even the annual salary that I think is the problem. Less than $4 million for a solid two-way forward is by no means an overpay in today's league. I think the Blues will receive their money's worth early on. He doesn't even have to score a ton to give them that. The Blues have guys like Tarasenko, Robby Fabbri, Alexander Steen, etc. for that.
My issue here with this extension is the term length and the no-trade clause and how it can impact the roster later on.
Berglund's inconsistency is just not something I expected the Blues to reward with five years of job security. If you look at his recent seasons, the fact that he will be 33 years old when this contract ends, and the money the Blues have already committed elsewhere for the future, we could very well be discussing this contract in 2020 as a hindering problem.
Berglund's contract could be the same type of problem that Jori Lehtera's is for the Blues now: inhibiting.
I think moves like this one made in the past by the Blues hurt them down the road. You're seeing it now; big extensions for players like Jay Bouwmeester and Lehtera have made it impossible for the Blues to keep Kevin Shattenkirk, a guy everyone would rather have. And young stars like Fabbri and Colton Parayko will need new deals soon as well. Will the Blues be fighting for cap space again?
In my mind, the Blues have been prioritizing players in the wrong order. They just haven't planned well enough for the future. And I'm terrified this Berglund extension will be another instance. Hopefully I'm totally wrong. I promise I will eat my crow.
Congratulations to Patrik Berglund. But "good luck" to Doug Armstrong and the rest of us.