St. Louis Blues: No Sophomore Slump from Colton Parayko is a Huge Relief
The St. Louis Blues have found an absolute gem in young defenseman Colton Parayko.
The St. Louis Blues have needed a lot of players to step up this season to get to where the team currently stands. In his sophomore season, Colton Parayko is doing just that.
And we should actually be a little surprised.
The rookie year that Colton Parayko enjoyed was a little less than completely nuts. He was a deserving contender for the Calder Trophy. He instantly became a Blues fan favorite and immediately dropped himself into the core of the franchise.
All this, after pretty much coming out of nowhere.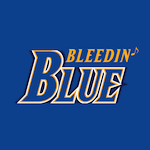 Want your voice heard? Join the Bleedin' Blue team!
Write for us!
Don't forget where the 6'6″ star came from. He was never drafted into a major junior league in Canada like many of the game's stars. He spent two years in the lesser Albert Junior Hockey League before being a third-round pick of the St. Louis Blues in 2012. Parayko still needed three years in college to develop before becoming pro.
Colton Parayko was just never a top prospect. He was an afterthought among Blues prospects to many, many fans. And that's what made last season so enjoyable. He surprised all of us with his skating ability and finesse given his enormous size. And well, you've seen the slapshot.
Honestly, nobody expected nine goals and 33 points for Colton Parayko in his rookie season. His plus-28 rating was also pretty damn impressive.
Now, I was just a little worried about him heading into this season. We probably all should have had some concerns, right? This was a guy who experts never saw as an elite-potential defenseman and he just popped onto the Blues' roster and helped lead the team to a Western Conference Final. In addition, he was often compared to legend Al MacInnis. That's kind of storybook.
However, regression could have definitely been in the cards.
And, that's not a shot at him. I love Parayko. Sophomore slumps just happen in the NHL a lot. Hell, they happen in every professional sport.
With hockey in particular, look no further than Philadelphia. Shayne Gostisbehere is a good example. "Ghost Bear" was also a third-round pick and attended a smaller university to develop. He had the same timeline as the Blues defenseman. Gostisbehere arrived on the scene in Philadelphia, surprised the hockey world and even broke some rookie records.
However, in his sophomore season, he has regressed quite a bit. The Flyers star scored 23 goals last year which was unsustainable. But, he still has just six goals this season while shooting frequently. The main issue with him has been his defense. It's been atrocious at times. He has even been a healthy scratch in games for the Broad Street Bullies due to poor defense and decision-making.
The Blues could very well have ended up with this type of situation as well. We should thank our lucky stars they didn't.
I'm sure it seemed to some like Colton Parayko was headed down that path early on. No. 55 had some pretty terrible luck shooting the puck (he still does) with all of the broken sticks and deflections. It was the topic of the town.
But now, with 12 games left, things have worked out just fine. The scoring production has come.
His stat line suggests regression. He most likely won't match his goal total and he certainly won't repeat the plus-minus. However, as a second-year player, Parayko has improved his passing and his defense has been just as superb throughout this campaign. If you watch the St. Louis Blues every night, try to remember key mistakes he made this season. I'll wait.
It's Parayko's consistency and ability to build off a surprising performance that gave the Blues the freedom and confidence to trade Kevin Shattenkirk.
So, with the season wrapping up, it's important to remember how good Colton Parayko has been this year. And it's important to appreciate it. It's pretty easy to take players for granted sometimes.
The one player who was probably the biggest risk to regress for the St. Louis Blues has proven his rookie season was no fluke. He's proving that scouts and "experts" were simply wrong on him for years.
The last two years look pretty similar and they might even be his floor production-wise.
Therefore, after he receives his new contract this summer, the Blues might end up with a decade of immense value from a third-round pick no one had really heard of.
That's the only thing bigger than his shot.