St. Louis Blues: Craig Berube Needs To Stop With The Healthy Scratches
St. Louis Blues coaches of old and new seem to be enamored with giving players a "mental health day" and use them as a healthy scratch, but at this point in the season, it doesn't make sense.
There are a few reasons why the St. Louis Blues need to quit it with giving veteran players an opportunity to watch the game from the press box. This is not just a Craig Berube tendency, former head coach Mike Yeo would also employ this strategy.
One of the issues with issuing healthy scratches at this point in the season is that it is clearly not working. The most recent example of this problem is the benching of David Perron.
To put it in simple terms, Perron is not the problem. Patrick Maroon is not the problem. You can insert any player whose name is not Jay Bouwmeester (who by the way, has been playing great lately) and benching them would not solve the problem.
Perron has been precisely what you signed him to be this season. His 16 points on the year are third on the team, and even though his five on five production has not been up to par, he has been a critical factor on the Blues powerplay.
Maroon brings more to the team than what shows up on the scoresheet. It is no question that the Blues powerplay struggled while Maroon was injured, and then picked back up when he returned.
His presence in front of the net goes way beyond the eight points that Maroon has contributed to the scoresheet and benching him for a younger player, (who by the way is about five inches shorter and about a hundred pounds lighter than Maroon) does not make any sense at all.
The question remains, however, why do the Blues keep benching veteran players? When you are scrambling for every single possible point between now and the end of the season, you need to be playing your best players.
Not only your best players but the players you are paying millions of dollars to be here and contribute. If you are deadset on scratching the Perron's and Maroon's of the world, then you might as well ship them out and give Jordan Kyrou a chance to play every single day.
I am not against healthy scratches entirely, either for disciplinary reasons or because of poor play, but I'll reiterate, this does not apply to this year's Blues team.
If the situation comes up, and Vladimir Tarasenko misses breakfast or misses a team meeting, by all means, scratch 91, but that needs to be the only reason why the Blues are benching top quality players.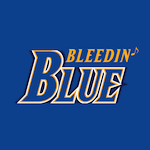 Want your voice heard? Join the Bleedin' Blue team!
Write for us!
This trend of random healthy scratches needs to stop. They are pointless, and they lead to players coming back playing out of rhythm, and it can disrupt the team's chemistry on the ice. Let the players you paid to be here play, and see if they can turn this season around.