St. Louis Blues: Jordan Nolan Has Been A Breath Of Fresh Air
The former Stanley Cup winner Jordan Nolan was an under the radar move over the offseason for the St. Louis Blues, but his presence on the ice has been a breath of fresh air.
The St. Louis Blues signed Jordan Nolan to a one year, two-way deal over the offseason worth $650 thousand. The move was clearly intended on Nolan starting the year in San Antonio in the AHL, but injuries and poor performance have found Nolan in the NHL once again.
The 29-year-old forward spent last season in Buffalo after spending his entire career with the Los Angeles Kings. Nolan won two Stanley Cups with the Kings back in 2012 and 2014 and brought some much-needed gumption to the Blues lineup.
Nolan has never been a top goal scorer in his eight-year career. His career high in goals was six back in 2013 and 2014 and has never registered more than ten points in a single season.
None of this is concerning, and the Blues did not bring Nolan in to be a 20 goal scorer. Instead, the physicality of the 219lb Canadian is what was most appealing to St. Louis.
Nolan has recorded 100 hits or more in three different seasons, and he is the most aggressive player the Blues have had since Ryan Reaves.
There is a reason why Nolan has been able to stick around for nine years in the NHL without an abundance of offensive production. If you are not scoring goals or contributing at all on the offensive end, then you better be doing something else right, and Nolan has done that.
There was, however, something that was surprising to start the 2018-19 season for Nolan, he started scoring goals.
Nolan played 24 games in San Antonio, and during his time with the Rampage, he registered seven goals and eight assists. His 15 points in San Antonio to start the year, is more than his previous two seasons in the NHL combined.
Now, I think it is unreasonable to expect Nolan to keep up this kind of production at the NHL level, especially since he is playing on the fourth line, but regardless, his play at the AHL level should give him a boost of confidence in St. Louis.
In a tiny sample size so far in 2018, Nolan has helped bring an identity to the Blues fourth line. Nolan has one assist in three games and has averaged 7:35 time on ice, but he has helped the club with their physical play when he has been on the ice.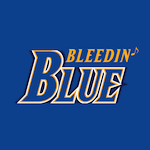 Want your voice heard? Join the Bleedin' Blue team!
Write for us!
Nolan may not stick around with the big club for the rest of the season, but as long as he is here, I think the St. Louis Blues and their fans should welcome the seasoned vet.