Should The St. Louis Blues Have Interest In Corey Perry?
The Anaheim Ducks announced Wednesday they had bought out the rest of Corey Perry's contract. Should the St. Louis Blues take a look at the veteran?
The 2019-2020 St. Louis Blues roster figures to feature some of the same faces we saw win the Stanley Cup just one week ago and there does not seem to be much room for marquee additions barring a surprising trade.
However, news broke on Wednesday that the Anaheim Ducks have bought out the remainder of longtime leader Corey Perry. Perry had an $8.625 million cap hit before being bought out by the Ducks, but after an injury-plagued season a year ago, he figures to make much less in free agency.
This is not to say that Perry will not be a hot commodity, Pucks of A Feather site expert Ciara Durant documents the prestigious history of Perry during his time in Anaheim, and he will seek a salary that acknowledges his former glory.
Perry only played in 31 games in 2018-2019, and only registered six goals and four assists. However, Perry only missed a combined 10 games in the previous three seasons.
The 34-year-old and former Hart Trophy winner, has netted 372 career goals, and 404 assists, good for 776 points over his illustrious career.
Two big questions need to be asked and answered before considering making a run at Perry if you're the St. Louis Blues. The first is money, and the Blues will likely have more room to navigate the salary cap despite being right up against it this season but still need to pay a few restricted free agents.
The Blues have five unrestricted free agents. Pat Maroon, Michael Del Zotto, Chris Thorburn, Jared Coreau and Carl Gunnarsson. Del Zotto and Thorburn played a combined eight games for the Blues this season, and Coreau was the backup goalie in San Antonio for most of the year.
There was talk last summer that the Blues would look at extending Maroon during the season, however, with the slow start the team had and the possibility of trading Maroon at the deadline, he remained without an extension.
It's hard to imagine the Blues would not want him back for another tour of duty with his hometown team. Maroon took a discount to play with the Blues and only earned $1.75 million this past year.
Gunnarsson had a cap hit of $2.9 million, but despite missing 57 games in the regular season, he was a big part of why the Blues won the Cup. Gunnarsson may not be in the Blues future. St. Louis has some promising young defensemen that will be NHL ready in a matter of years, with Mitch Reinke possibly prepared to go next season.
According to capfriendly.com, the Blues will have a projected $17.7 million in cap space heading into the offseason. This will fluctuate depending on what the salary cap will be heading into the new season. In addition, the Blues have seven RFAs they need to sign.
Perry very well could be in the cards for St. Louis, he has eight seasons of scoring 20 or more goals and if healthy, could still be a viable source of offense for the Blues.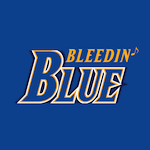 Want your voice heard? Join the Bleedin' Blue team!
Write for us!
Signing Perry would require the Blues to move players around and possibly trade Jake Allen to clear some money for the potential signing of Perry. However, with young guns like Jordan Kyrou, Klim Kostin, and Sammy Blais waiting for a shot, I would steer clear.