St. Louis Blues Should Be Thrilled With Their Goalie Situation
The St. Louis Blues have been marked by goalie controversy for the past decade. However, thanks to Jordan Binnington and Jake Allen, the Blues have a great tandem.
The St. Louis Blues could never seem to get any consistent goaltending from who they thought was going to be their number one goalie. Jake Allen had the reigns for the previous three years, but now he gives way to Jordan Binnington.
Both Allen and Binnington had moments of greatness last season, with Binnington having the most sustained excellence during his historic rookie campaign. This does not mean, however, that the Blues and its fans should be quick to dismiss Allen.
I am by no means going to sit here and try to defend the contract that the Blues handed Allen. The 28-year-old will make $4.35 million over the next two seasons before ultimately becoming an unrestricted free agent.
We can play the "what if" game all day long. What if the Blues kept Ben Bishop? What if the Blues kept Carter Hutton or Brian Elliot long term?
Trying to go back and recorrect the past is impossible and irrelevant to why the 2019-20 goalie situation should excite you.
Barring a tragic injury to Binnington, he figures to slot in as your number one goalie for the upcoming season and foreseeable future.
When describing Binnington, people have used every superlative in the book to try and explain the historic run he went on during the second half of the regular season, and into the Stanley Cup Playoffs.
Binnington's regular season numbers were unlike anything the Blues have seen in franchise history. The 25-year-old recorded a 24-5-1 record with a .927 SV% and allowed 1.89 GAA.
I fail to put up these numbers in a video game, much less do it in the NHL in your rookie season. His success did not stop there, leading the Blues to their first Stanley Cup.
Playing and starting in all 26 games, Binnington netted a .914 SV% and a 2.46 GAA. The rookie was also able to earn his first career postseason shutout in game five of the Western Conference Finals.
There is nothing to suggest that this stellar play will decrease during the upcoming campaign. However, he cannot start and play in all 82 games next season, so St. Louis will need Allen to contribute.
Allen's overall numbers were not great last season. A 19-17-8 record with a .905 SV% and a 2.83 GAA is not ideal for a team that wants to compete for a Cup year after year.
Some of these numbers were skewed from the first three months of the season when the Blues forgot how to play hockey entirely. There were multiple occasions where pucks would enter Allen's net that ricocheted off of his own defencemen.
However, Allen's season was not marked entirely by disappointment and poor play. There were times during the year where Allen showed everyone why the Blues passed on former goalies.
The 28-year-old's road play was spectacular last season and was matched by only a handful of other goalies around the league.
Away from the Enterprise Center, Allen had an 11-8-6 record with an astounding .924 SV% and a 2.26 GAA. His save percentage on the road is almost identical to Binnington's, though it was his confidence that stood out.
Watching the games Allen played at home were almost laughable. However, once he got out on the road, he and his teammates seemed to figure things out and as a result, Allen found most of his success away from St. Louis.
Allen will need to be better at home next season, and it is unrealistic for the Blues to have a rigid platoon where Allen starts the away games and Binnington starts the home games.
Binnington will get the majority of the starts, no one can debate that, but the Blues can still utilize both goalies carefully in order to get the maximum amount of production out of both of them.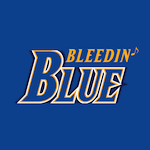 Want your voice heard? Join the Bleedin' Blue team!
Write for us!
Allen will probably be scrutinized by fans for the remainder of his contract with St. Louis, and that is because of how much money he makes while starting just a third of the games. However, Allen will prove to be a high-quality NHL backup goalie.