St. Louis Blues Top 10 Moments Of 2019 Stanley Cup Final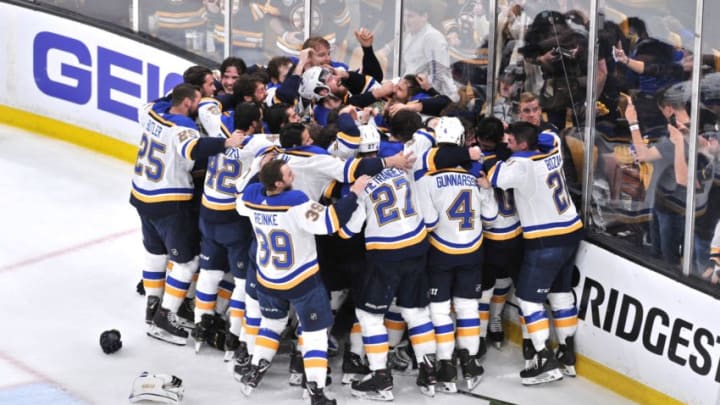 BOSTON, MA - JUNE 12: St. Louis Blues players celebrate their first Stanley Cup title in franchise history. During Game 7 of the Stanley Cup Finals featuring the St. Louis Blues against the Boston Bruins on June 12, 2019 at TD Garden in Boston, MA. (Photo by Michael Tureski/Icon Sportswire via Getty Images) /
BOSTON, MASSACHUSETTS – JUNE 12: Jordan Binnington #50 of the St. Louis Blues hoists the Stanley Cup on the ice after the 2019 NHL Stanley Cup Final at TD Garden on June 12, 2019 in Boston, Massachusetts. The St. Louis Blues defeated the Boston Bruins 4-1 in Game 7 to win the Stanley Cup Final 4-3. (Photo by Dave Sandford/NHLI via Getty Images) /
Nobody could have imagined the St. Louis Blues making the 2019 Stanley Cup Final the way the season began. Once there, they gave us some of the best sports memories we'll ever have.
They say you never forget your first.  First relationship, first kiss, first date, first child, first whatever – they always seem to stay with you.
Whether it takes another 50 years or they win back-to-back, that phrase seems tailor made for the 2018-19 St. Louis Blues.
As a franchise that put its fans through so much over the years, they seemed destined to break hearts.  Even in the best of times, Blues fans always felt the other shoe would drop eventually and kept waiting for the inevitable bad to happen.
St. Louis opened 2018-19 with so much promise.  The Blues had finally made some big splashes in the summer of 2018 and fans went into the season with renewed hope.
The opening of the season quickly squashed all that as the Blues won three of their first 10 games and only had nine wins through the first two months of the season.  It looked like all that promise was just another broken promise between a team and its fans.
However, a coaching change in November seemed to give a little spark.  Results did not quickly follow, but you could see a different dynamic to the team.
Then, everything fell into place in 2019.  The Blues won a franchise record 11 games in a row.
They were pretty much the hottest team in the league from the All-Star break through the end of the regular season.  It was only their horrendous start that kept them from ascending to the top of the Central Division before the season ran out.
In typical Blues fashion, they made us sweat almost every step of the way.  It took six games to win against Winnipeg, seven against Dallas and as draining a six games as you might have against San Jose.  Nevertheless, the Blues made the Stanley Cup Final.
For the first time in 49 years, Blues fans would witness history.  With so many memorable nights and franchise firsts, there was something for everyone.
Now, take a trip down memory lane.  Whether you are reading this months after the Cup win or years later, these are the moments none of us will ever forget.