St. Louis Blues: Alex Steen Will Thrive If He Stays On This Line
The St. Louis Blues may have found something special in their third line. Over the last four games, this line has combined for double-digit points and were instrumental in the wins against the Buffalo Sabres and Anaheim Ducks.
I'll come right out and say it: I believe Alex Steen will continue his offensive resurgence if he stays with the current makeup of the third line. Recently, St. Louis Blues fans have somewhat written him off as a fourth-line player with some upside. He could be so much more on this line.
Over his last five games, Steen has posted all three of his 2019-20 goals and six points (3 G, 3 A). That's six points out of 14 (7 G, 7 A) for the entire line. Compare his production to his last 15 games where he only posted three assists (but a very impressive +9).
Steen has always been a strong defender with a career plus/minus of +56 and has received Selke Trophy votes in seven different years. He even received Hart Trophy votes for his stellar 2013-14 campaign.
The defense this year has been more of the same as goalies have a .920 save percentage while he is on the ice. Additionally, he has picked up a full point share with his defense alone. This may not sound like much, but a defensive point share for someone who plays lower-tier minutes, overall, is pretty impressive.
His offense, however, has been on a downward trend posting just 15 goals and 46 points in 2017-18. Last year he posted just 10 goals and 27 points. With that downward trend continuing this season, he has seen his average time on ice (TOI) drop to 14:06 minutes per night.
I believe that being on a line with similar players can change all of this.
Call me crazy, but I think that Steen has been clicking on this line because he has a similar play style to the other two guys, Tyler Bozak and Robert Thomas. They are all very smart, decent defenders, have offensive potential, and like to get physical from time to time.
Before any thoughts arise about how Steen's offense might hurt the production of Bozak and Thomas, it needs to be clarified that both players are performing as well. Bozak has five points (3 G, 5 A) in his last five games and Thomas has four points (1 G, 3 A).
It is possible that Steen is just riding the momentum that Thomas and Bozak found together. In the fifteen games prior, Bozak posted 12 points and Thomas had nine. Either way, what they found is working.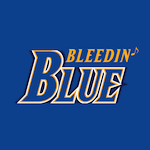 Want your voice heard? Join the Bleedin' Blue team!
Write for us!
All in all, I believe that they should leave this line alone until something is drastically wrong with the production, just like they left the fourth line alone last season. Combining Steen's strong defense with the offensive upside of Bozak and Thomas will lead to one of the best third lines in the league.