St. Louis Blues: David Perron Has Turned Into The Team's Top Threat
David Perron's performance this season for the St. Louis Blues should not be understated. Once viewed as a contributing piece to the offense, he has taken center stage after Vladimir Tarasenko's injury left the offense in a brief flux.
The St. Louis Blues forward had never scored more than 18 goals, collected more than 66 points, and never posted more than four game-winning goals in a season. Over the past five seasons, David Perron has averaged just 16:58 time on ice per night, mostly because he has been a solid second or third-line guy.
This season he has been the Blues' top offensive threat. Arguably, he has been one of the best offensive threats in the league in 2019-20. While that may come as no surprise to fans that have been paying attention, I want the reader to know just how special this career-year has been for 57.
In just 51 games, Perron has the third most goals scored in his career and is just six off the mark of his 28-goal season with the Edmonton Oilers in 2013-14. Additionally, he is just 14 points off the mark from his 66-point season set during the Vegas Golden Knights' inaugural season in 19 fewer games played.
Perron holds a slight lead over Leon Draisaitl in game-winning goals this season with eight and has posted another league-leading four overtime goals.
Not only has he been clutch in close games, but he is also the reason for a much-improved Blues powerplay. He currently leads the team in powerplay goals (9) and powerplay assists (16) and is burying shots at a rate of 18 percent.
From an advanced analytics standpoint, Perron leads the team in offensive point shares with 4.7 and sits third on the team in overall point shares, just behind Alex Pietrangelo and Jordan Binnington (aka the lifeblood of the defense).
All of this production has put the Quebec native on the ice three minutes more per night than his previous five-year average.
David Perron has always been a strong player, and everyone knew he would be when he started his career as a 19-year-old. But I think I speak on the behalf of most people when I say: No one expected this type of offensive outburst from him this season.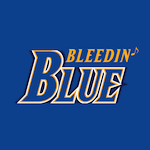 Want your voice heard? Join the Bleedin' Blue team!
Write for us!
This is not a one-hit-wonder season either. While it seems like Perron has been in the league forever, he is just 31 with several years remaining in his prime and two years remaining on his current contract. If he stays on Ryan O'Reilly's line, we could be in for a special couple of seasons with the man who has never signed with any other team.