St. Louis Blues: Where Did The Blues Game Go?!?!
The St. Louis Blues went into Las Vegas last night to face an inconsistent Golden Knights team. We all expected a big statement game from the Blues and we got just that, except it wasn't the statement we wanted.
Jordan Binnington was lit up again in this one. He has a paltry .883 save percentage in his last 10 games. He's far less aggressive, sitting too far back in his net. Not attacking the shooter like we saw last season and part of the beginning of this season.
For someone who isn't nervous, he sure looks the part from my perspective. His rebound control has been terrible. He hasn't been gobbling up pucks like we're used to seeing and needing to get back to basics and playing aggressive hockey.
Binnington isn't the only culprit here. The penalty kill has been less aggressive. When the Blues PK unit isn't being aggressive on their reads, the opposition has the time to make plays and with a goaltender struggling it spells defeat.
I can't begin to imagine the emotion the guys had going into this one after the tragic events that happened with Jay Bouwmeester in Anaheim, but that was the last game and this has been a trend that has occurred well before that event.
Let me say that my thoughts and prayers are with Jay and his family and I was scared to death when I saw what was happening. That was scary! He's 2 years younger than me and in way better shape.
No family can be prepared for something like that so unexpectedly to happen to such a young man. I pray he recovers and finds the solution to his issue and is back on the ice if he so chooses.
So, emotions were all over the place for this one I'm sure, but again this has been happening before JayBo went down so I'm looking over the last ten games or so.
Binnington has been bad. That's all I can say about it. The offense is scoring, but at what cost? We can't seem to hold onto a lead no matter the size. Jake Allen I expect will see more time and I mentioned to a close friend at the beginning of the season that the Blues would repeat and Jake Allen would be the goalie of record for the playoffs.
The bottom line is the Blues aren't aggressive enough. They aren't assertive without the puck. It's become too passive. Passiveness that has lead to poor clearing attempts, turnovers and extended time in the defensive zone.
This all is correctable! That's good news. On top of that, the offense is scoring. So if we can correct the defensive woes and get back to the structured, assertive, defense we all know this team to be we should be fine, but if the play of Binnington doesn't get better it could be up to Allen to provide solid goaltending which he has done of late.
Zach Sanford, unsurprising to me, has started to display the player Armstrong saw when he got him in the trade for Kevin Shattenkirk. I'm not surprised because I said earlier in a player profile article that I linked to here, Sanford could and should be a 20 goal scorer with the potential for more depending on his supporting cast, which Ryan O'Reilly and David Perron are a more than a good supporting cast.
Colton Parayko is reminding me more and more of Chris Pronger. He's not as mean and nasty as Pronger, but he possesses all the other skill sets Pronger had and we are witnessing him really getting some confidence and understanding of what he can do in this league. He's flying!
Aside from that the rest of the team has been mediocre at best. Robert Thomas is getting figured out and needs to add some fakes in his entries as we witnessed him get shut down a few times by the Vegas defense that obviously scouted the young budding star to see his tendencies to pull up on the entry.
The Blues are still sitting atop the Central Division and despite the doom and gloom sound and context of this article, the team has a lot to be hopeful for as long as they get back to St. Louis Blues Hockey. Being strong on pucks, tenacious on the forecheck, and assertive without the puck.
Vladimir Tarasenko is coming back. Oskar Sundqvist will be back even sooner. Jay Bouwmeester successfully underwent an ICD procedure. Excellent news, but what that means for JayBo's future is yet to be told, but Niko Mikkola can slot in and provide some of the same attributes of Jay Bouwmeester.
The Blues need to get back to the basics of what makes them successful and that isn't a tall order. They are nearly a lock for the playoffs and that is a good thing, but to be successful they need to get back to their game and build on that.
I'm confident this team has the mental fortitude to right the ship and play some of their best hockey to date for the rest of the season and playoffs. I've been right about a few things so far and I hope I'm right about this as well.
Blues repeat and Jake Allen is the goalie of record. Sanford finishes with 25 goals for the season. Robert Thomas takes his game to another level and Jordan Kyrou continues to grow and even becomes a consistent threat on the third or fourth line.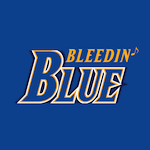 Want your voice heard? Join the Bleedin' Blue team!
Write for us!
Let's go Blues! Time to get down to business and play our brand of hockey! Aggressive, assertive, relentless, tenacious, and heavy NHL hockey! We have the pieces, no trades needed. We did it once and we WILL do it again!
Drop the puck!!