St. Louis Blues: How High Is Robert Thomas' Ceiling
St. Louis Blues forward Robert Thomas is a winner through and through. The first-round draft pick has won championships at nearly every level of hockey and was in the middle of a solid sophomore season — but just how high is his ceiling?
Robert Thomas won the Stanley Cup with the St. Louis Blues last season, the J. Ross Robertson Cup twice while he was in the OHL, a gold medal playing for Team Canada in the World U-17 Hockey Challenge and another gold medal playing for Team Canada in the IIHF World U20 Championship. The man is a winner.
Last season as a rookie, Thomas posted 33 points in 70 games with a plus/minus of minus-2. He also played meaningful minutes in the Stanley Cup playoffs. Thomas appeared in 21 games and nearly ended game seven against the Stars with a goal before it hit the crossbar and was stuffed in by Pat Maroon.
This season, before the hiatus, he scored 10 goals and collected 42 points to go along with a plus/minus of plus-9 and two game-winners. Thomas did have a decent amount of point shares with 4.1, but a majority of that is coming from his offensive ability.
While the numbers he put up do not live up to Sidney Crosby's at 18, it is solid production for a 20-year-old. Thomas is putting up roughly the amount of points that Vladimir Tarasenko did at 22-years-old (43 points) and Alex Steen did as a 21-year-old (45 points). He's got a head start on a couple of guys who eventually turned into franchise-changing athletes.
Additionally, Thomas has a strong relationship with Keith Tkachuk and his sons. So not only is he massively talented – gifted with the winning gene – he has now learned a lot from a hockey family powerhouse.
The invaluable knowledge that can be provided to go along with everything else just convinces me more and more of the answer to one question. Does what we have seen show that Robert Thomas is a future superstar?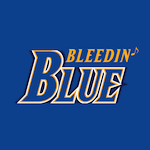 Want your voice heard? Join the Bleedin' Blue team!
Write for us!
If you ask me, I think that he has the intangibles and work ethic to make some waves in this league. While I do not want to say he is a surefire superstar, it is certainly possible.
I do, however, believe he will be a player that St. Louis Blues fans remember for a long time.