St. Louis Blues Continue Figuring Out Their RFA Situation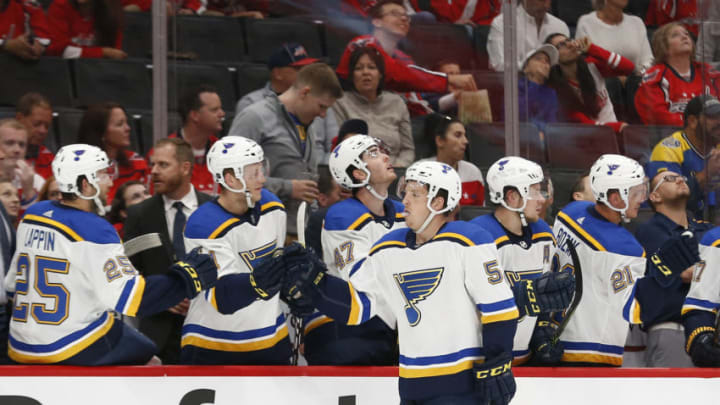 Sep 18, 2019; Washington, DC, USA; St. Louis Blues right wing Austin Poganski (53) celebrates with teammates after scoring a goal against the Washington Capitals in the first period at Capital One Arena. Mandatory Credit: Geoff Burke-USA TODAY Sports /
The St. Louis Blues continue their offseason business. Two more checkmarks went in the books with the signing of two restricted free agents.
The to-do list for the St. Louis Blues is getting shorter and shorter for 2020. Given how strange the year has been, that is likely a good thing.
The Blues just signed both Austin Poganski and Mitch Reinke. Unfortunately for both players, they get no certainty beyond this season.
Both Reinke and Poganski signed one-year contracts. Both deals are two-way contracts, meaning the team has little intention of having them showcase in the NHL unless a long string of injuries happens or they just blow away the scouts in training camp.
Reinke has one NHL game to his name. He played against the Arizona Coyotes back on March 31, 2018.
More from Free Agency
Reinke had two blocked shots in that game. He only had one shot on goal in 13:05 ice time.
Similarly, Poganski also has just one NHL game in his career. His first game in the show came on December 10, 2019, just before the world went to pot.
Poganski didn't record any stats in nine shifts. He played just 5:54 on the ice.
Both players were in the top 10 in scoring on the Blues AHL affiliate in 2019-20. That's not automatically saying much since the San Antonio Rampage had a pretty poor season, but compared to their teammates, they were performing well.
Both players would likely rather have had another year on their deal, but neither were arbitration eligible. That means, they basically had to accept the Blues qualifying offer or not play in North America in 2020-21.
Both are 24, so they might still have a shot at the NHL and should not give up hope. However, they're also on that edge of becoming a career minor league player.
Perhaps they'll get their shot.