Prospect Profile: St. Louis Blues Colten Ellis Quickly On The Rise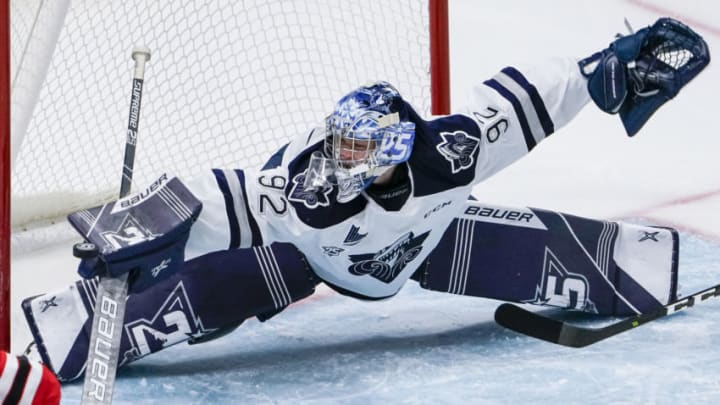 Colten Ellis #92(Photo by Mathieu Belanger/Getty Images) /
The life of a St. Louis Blues draft pick is filled with excitement, mixed with anxiety. You are overjoyed when the team selects you on draft day, but after that, it's a lot of sitting back and waiting.
Colten Ellis did not have to wait all that long. After two, consecutive, stellar seasons, the Blues wasted no time in putting Ellis' name on a contract.
The Blues signed Ellis to the maximum length for an entry level contract, which is three years. Ellis had the standard story you hear from so many hockey players, but you never really get tired of hearing it.
"There's so many people that contributed to this contract," Ellis told Jason Malloy of The Guardian. "This wasn't just me signing this. I don't know where I would be without my parents and my family. Right from the start, it sounds cliché to say it, but (they were) waking up early to take me to practice."
This doesn't feel like your token contract, just randomly given out. While the Blues have a good deal of goaltending talent in the pipeline, Ellis has planted his flag in the ground rather early.
Ellis is only 20, though he'll turn 21 in October. Nevertheless, after the last few seasons he has had in junior, he has gone from a draft pick with promise to a prospect the team won't be able to ignore for long.
Ellis has played in the Quebec league, known as the QMJHL, for five seasons. Doing the math, he's been playing major junior hockey since he was 16.
The last four seasons have been fantastic. Ellis has gone 33-8-6, 27-15-2, 18-7-3 and now 16-1-0.
He's put up solid numbers too. In those four years, he's never had a goals against higher than 2.47 or a save percentage worse than .904. In junior, where the goals flow at times, those are quality numbers.
Ellis has the talent to put up goose eggs too. He is currently in second place, all time, on the QMJHL shutout list. As of publication, he has 16 shutouts to his name.
You cannot say he is a product of a team or system either. Those first few seasons were played with Cape Breton and Rimouski Océanic. The 2021 season has been spent with the Charlottetown Islanders.
Ellis went 16-0 with the Islanders before finally losing his first game. He was one win shy of breaking the record for most consecutive wins in QMJHL history.
The last time he had a losing record was when he was 15 years old. Given his track record, it's a bit surprising he was not given more attention for the World Junior Championships, though playing on Prince Edward Island might have taken some notice away from him at a position where Canada is so loaded as it is.
Regardless, Ellis has proven himself to be a winner. His next move has to be to learn the pro game and make those skills translate.
It won't be easy. We've seen players have great junior careers and peter out, like Evan Fitzpatrick, who has fallen down the depth chart.
There's quite a few players ahead of Ellis too. Ville Husso has ascended to the NHL level, where he'll be for at least one more season under his current contract. The Blues are also high on Joel Hofer, who did play in the WJC in 2019-20.
What this contract provides, is time and incentive. Most players are given a serious look within the professional ranks by the time their entry level deal is up.
So, Ellis has two or three years to really sharpen his game. He's proven he can shut down his age group, so the next step is the rough and tumble pro game.
Thus far, he's shown he's a winner. The Blues are showing him some faith with this deal and now it's up to him to push his way past the others. Time is on his side since goalies develop continually and don't hit their peak until much after skaters.