St. Louis Blues Doug Armstrong Does It Again With Pavel Buchnevich Trade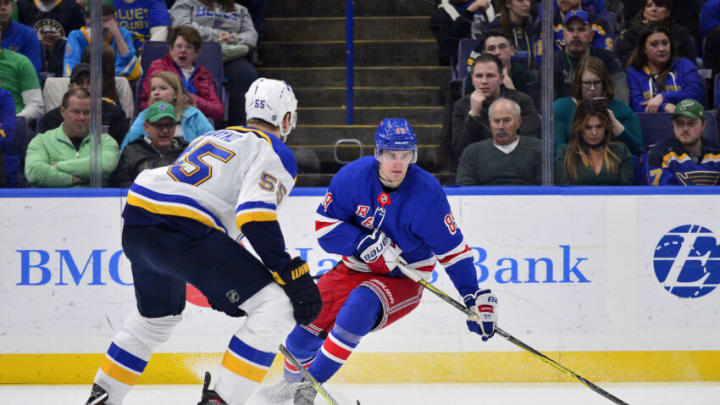 Pavel Buchnevich (89) St. Louis BluesMandatory Credit: Jeff Curry-USA TODAY Sports /
Stop me if you've heard this before, but St. Louis Blues general manager Doug Armstrong just won another trade. Sure, sure, it's too early to declare a winner, but if news channels can do it for political reasons, we can do it for sports.
The Blues just acquired Pavel Buchnevich from the New York Rangers. Don't let the excitement fool you into thinking he will be a game changer for the Blues, but it's a fantastic addition.
Buchnevich is a scorer, which is something the Blues really need. Whether they need to replace high-profile names possibly leaving this offseason, or Buchnevich is simply extra supplemental scoring, he looks to shoot and the Blues can use that.
He has scored over 20 goals in two of the last three seasons. His 16 goals in 2019-20 is a bit worrying, but he switched his focus to playmaking because he set a personal record for points in a season that year with 46.
Buchnevich then broke that record with 48 points in the pandemic shortened season of 2021. He also scored 20 goals in those 54 games.
More from Editorials
In and of itself, this is a good addition, assuming the Blues get Buchnevich's contract worked out since he is a restricted free agent. It's an even better move considering what Armstrong had to give up.
Blues fans will miss Sammy Blais. The guy was a human heat seeking missile and his style of hockey fit in very well with what most people think of as Blues hockey.
Blais had 258 hits in the last two seasons alone. We should all marvel and respect how he transformed his game from a skill player in juniors and the minors to being a hard-nosed role player in the NHL.
You cannot argue the upgrade. Though we love his effort, Blais has 17 career NHL goals spread across parts of four seasons.
Buchnevich had more goals than that in a shortened season. He's got the skill to fit into the Blues top six and improve their offensive ability but also fit in with the third line if the Blues enter the season with enough depth for that to make sense.
The Blues did include a 2022 second round draft pick. Given that the 2022 draft is expected to be much deeper than the draft of 2021, that might be costly. Then again, the Blues are a perennial playoff team, so it would be a mid-to-late second round pick in all likelihood.
So, you trade a third or fourth line player and a draft pick for a player who will likely slot into your second line? You'll take that any day of the week and twice on Sunday.
This trade won't make as many waves or garner as much praise as the additions of Brayden Schenn or Ryan O'Reilly. It's no less important as the Blues try to keep themselves in Stanley Cup contention.
It could be just as impactful as the trade to bring Justin Faulk to St. Louis. The only thing we must hope is that it doesn't take a full season, or more, for Buchnevich to feel comfortable.
Nevertheless, whether the person traded away was your favorite or not, Armstrong has not really lost on any trade in the last few years. No offense to Blais, but there's almost no way Army loses on this trade either.