2023-24 Is Really A Complete Unknown For The St. Louis Blues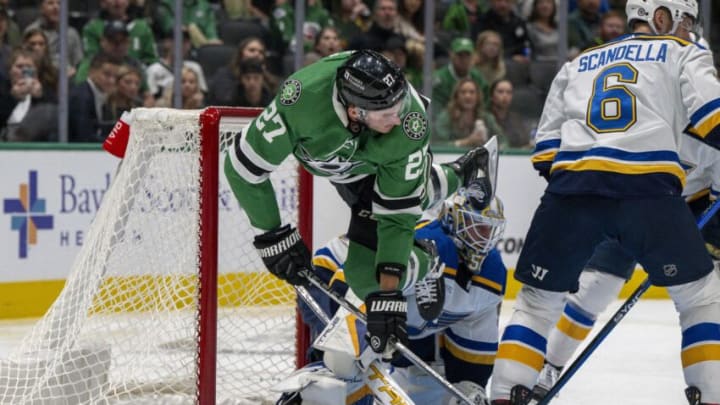 St. Louis BluesMandatory Credit: Jerome Miron-USA TODAY Sports /
If you like surprises, be sure to stay tuned to the St. Louis Blues in 2023-24. Every night, and the entire season, is likely to be a big unknown for this team.
It has been quite some time since we did not really have a pretty good idea of how the Blues would be. Maybe a player or two were unknown or it wasn't certain whether the Blues would simply be a playoff team or division contender, but we still knew whether they would be good or not.
Even when they were relatively poor, back in the mid-to-late 2000's, you kind of knew they were not going to be a playoff team. You were tuning in to watch the maturation of guys like David Backes, TJ Oshie and David Perron.
Now, who knows what you're going to get. Every night is setting up to be an adventure.
There's dozens of questions regarding this team.
Will the Blues get the Jakub Vrana and Kasperi Kapanen that we saw in flashes in late 2022-23? The Blues need some scoring punch to take the pressure off Jordan Kyrou and Robert Thomas and those guys fit that bill.
However, until we see it over the course of a season, we have to remember that one player was traded for essentially nothing and the other picked up off the waiver wire. It would be great for them to completely revamp their images in St. Louis, but we can't assume that has happened and we might see the versions that saw them lose favor elsewhere.
Along a similar note, which Jordan Binnington will we get. I've made no secrets that I still believe he's a winning goaltender that has not gotten the right support, but those sentiments only hold up for so long.
It is one thing to not have the stats, but if you're not getting the wins either, the Blues may be forced to make decisions much earlier than they would like. Joel Hofer is the goalie in waiting and they have two or three projects with talent in their system.
Binnington needs to find form that is at least similar to 2019-20, if not what he showed in 2018-19. People will call me insane, but he reminds me of Patrick Roy. He is capable of stealing you any game when he's on, but he can be irritable to say the least.
Last, but not least, the defense is on its own mission to redeem itself. None of these guys are going to remind anyone of Scott Stevens or Chris Pronger, but they should not be as bad collectively as we saw in 2022-23.
Torey Krug was on a team playing for a Stanley Cup. Justin Faulk was a captain elsewhere.
Colton Parayko and Robert Bortuzzo were integral parts of the 2019 Cup championship. Marco Scandella seemed like the perfect partner for Parayko before he fell off the cliff too.
Is this group able to band together and defend respectably at the very least? If we get a repeat of last season, it could be a very long year. I don't care if it's Binnington, Hofer or the good lord Himself in net – if the defense allows all the backdoor plays and screens we saw last season, it's impossible to keep the goals out.
I honestly cannot remember the last time we really had no clue how the Blues will finish. If someone told me the Blues would make the conference semifinal or completely miss the playoffs altogether, I would not have a good argument against either.
They have just enough talent to surprise some teams and be a bother to the teams with big expectations. I don't see this team competing for a championship, but they could go on a run if they hit their stride at the right time.
Still, it all hangs on the edge of a knife. I could just as easily see this team struggle if they have any sustained injuries or defensive problems and that means another year without a postseason berth.
With all that in mind, have fun this season. Maybe the Blues will shock us a bit. Hopefully they can at least provide us some fun nights, which were in short supply last year.