St. Louis Blues: Finding The Money For Patrick Marleau
At age 39, Patrick Marleau does not have much hockey left in him, but if on some off chance he wants to take a pay cut, should the St. Louis Blues come calling?
The short answer is no. The St. Louis Blues both do not have any money and do not have any room for Patrick Marleau on the roster. Despite his future Hall of Fame status, it's just not in the cards.
However, and this is a big however, part of what makes the offseason great is finding a way to make your wildest fantasies come true. So let's find a way to bring one of the best players of his generation to St. Louis.
The Blues would be getting an aging player who's prime is very much in the past. He spent the first 19 years of his career with the San Jose Sharks, and once he left San Jose, he has not been the same player.
Marleau had spent the previous two seasons with the Toronto Maple Leafs and played primarily on the second and third line. Even though he didn't have his 25-40 goal-scoring capabilities with the Leafs, anytime you have a future Hall of Famer on your team you're doing something right.
The left-handed shot played in 164 games for Toronto over two seasons and managed to net 43 goals and 41 assists. These numbers are nowhere near what people are used to seeing.
In 2009-10, Marleau netted 44 goals and 39 assists in one season, so his lack of production almost 10 years later is incredibly predictable and not at all a surprise.
What is a surprise, is that at age 39, Marleau currently holds a six-year streak of playing in every regular-season game. With the NHL being a physically demanding league, it is incredible how Marleau stays in good enough shape to play every night.
Even after the announcement of Joe Thorton resigning with the San Jose Sharks for another season, Marleau remains an unrestricted free agent. While it remains unclear if he wants to retire or is just waiting for the Sharks to offer him a contract, let's try to make room on the Blues roster.
Whenever we have talked about the St. Louis Blues acquiring new talent over the past two years. These types of trades have always been hypothetical because of their salary cap situation.
After signing Ivan Barbashev to a two-year deal, the Blues currently hold just under $500,000 in cap space. As a result, signing Marleau will require the Blues trading off a player on their roster.
While it's fun to imagine a second line with Marleau, David Perron, and Ryan O'Reilly, it may not be the most logical thing in the world to trade off a piece of your Cup-winning team.
Even if the Blues somehow found a suitor for Alex Steen's contract, there's no telling what Marleau is looking for in a new deal.
The former superstar had a cap hit of $6.25 million last season, and if he is looking for anything close to that, the Blues shouldn't even look in his direction.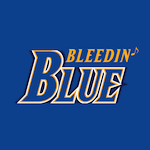 Want your voice heard? Join the Bleedin' Blue team!
Write for us!
Going into the next season after winning a Stanley Cup with the same roster as the season prior is a bold strategy and something teams have done in the past. However, if they get too complacent with the guys that brought them glory, they may find themselves stuck in the mud in a few years.