St. Louis Blues: Trade Rumors Involving Jordan Kyrou
The St. Louis Blues GM Doug Armstrong has recently said that if Vladimir Tarasenko isn't ready before the playoffs that the Blues are indeed looking for a top 6 forward.
This is no surprise to anyone as we've seen the Chicago Blackhawks do the same thing when Patrick Kane was out with a shoulder injury and wouldn't return until the playoffs.
The reason a team can do this is according to the NHL rule book there is no salary cap in the playoffs. If Vladimir Tarasenko remains on IR for the remainder of the season then the Blues will have his estimated $7.5 million cap hit freed up to be used to sign another player or players up to that amount.
The Blues plan to meet with Tarasenko and the team doctors to get a clearer return time in the upcoming week or two prior to the deadline. That timeline will be the indicator on how aggressive Army will be prior to the deadline.
So for the article's sake let's assume Vladi isn't ready to go before the playoffs then Army is in the market for a top 6 forward.
He also said that the Blues wouldn't being looking to make a move for another depth player.
He said he likes our depth for the playoffs and that he'd only be looking for an impact top 6 guy.
This brings us to the headline of the article. Jordan Kyrou. I've heard from many fans at the games that they keep hearing that any deal for a top six guy would include Kyrou. I have not personally seen anything linking Kyrou in any deal and if I do I know it's bull poo.
Here's why, Army just recently told Kyrou to start looking for a house in St. Louis. He told him that he wasn't going back to the AHL and that he is on the big club to stay.
I don't know Armstrong personally, yet, but reading between the lines in any dealings with Army and his players, coaches, staff he is a stand up guy that has routinely given his players and staff the respect they deserve and has been nothing but up front, honest and accommodating.
Knowing this and knowing it because we all as Blues fans have witnessed it and read enough about it that any trade rumor linking Kyrou to the deal is erroneous.
Army would not have the kid searching for a house in St. Louis if he knew that there was a chance he might be trading him shortly. That would be anti Army and a total "D" move on Army's part.
Armstrong would not do that to someone. Anyone who has bought a house knows the headaches, time and effort it takes to find "the one" and then negotiate the terms and seal the deal. Army wouldn't tell someone hey go make yourself crazy finding a house and then uproot the person just a month later.
Let's all take a deep breath and relax for a second. Assess the market for top 6 forwards. Whose available, what the Blues have to offer and really use our heads before we go spreading erroneous rumors.
Armstrong has proven to be a pretty good negotiator in the trade game and hasn't made too many bad decisions in terms of personnel. There's room for argument in each deal aside from a few but most would say Army has done a grade A job of player acquisition via trade.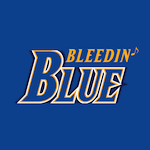 Want your voice heard? Join the Bleedin' Blue team!
Write for us!
There's several players being mentioned as available at the deadline. Out of all the names I honestly don't see a top 6 forward. So my guess is that in true Armstrong fashion any deal that gets made will be a shock to everyone around the league.
Army isn't going to mess with the chemistry of this team and make a move for the sake of making a move. It will make sense, make the team better, and not be a move that goes against his character. I would be surprised if a deal gets done.